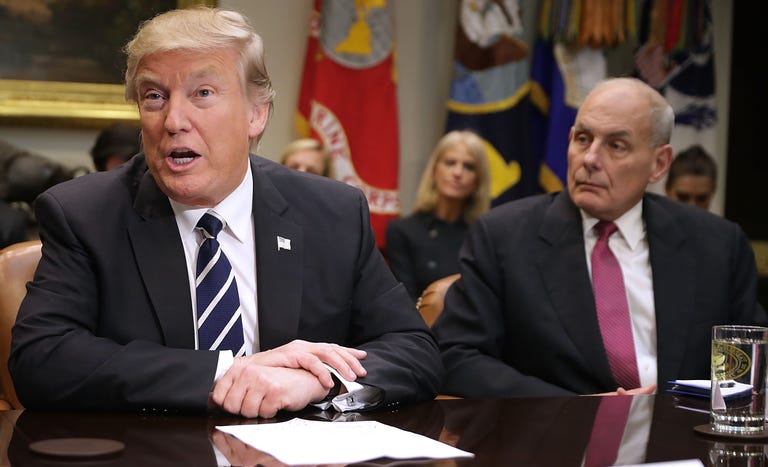 Getty ImagesChip Somodevilla
Having been shouted out of every restaurant in the Washington, D.C. area, Donald Trump and his starving band of Tom Clancy novel villains headed to Brussels, where they continued to encounter food trouble. Trump is attending the NATO Summit, an intergovernmental military alliance that normally shows a united front against aggressive nations like, say, Russia. This year is slightly different.
Advertisement – Continue Reading Below
President Trump began his time at the summit with a breakfast meeting in which he launched into a tirade accusing Germany of being "captive to Russia" and "controlled" by it. "That oughta throw everyone off my trail," he commented later.
Advertisement – Continue Reading Below
In video footage of the remarks, many noticed that Chief of Staff General John Kelly looked even more uncomfortable than usual. The Washington Post points out that he and U.S. ambassador to NATO Kay Bailey Hutchison appear to avert their gaze and shift their body language as the President speaks, much like most of us do. This was seen as an indication that they didn't agree with the brash tactic the President was employing.
Body language experts were asked to look at the footage but replied, "Yuck." So, we're left to our own devices.