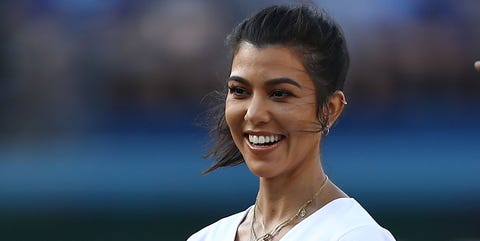 Getty ImagesVictor Decolongon
Kourtney Kardashian hasn't said a word about her breakup on her own social media since news broke this week that she ended her nearly two-year relationship with her 25-year-old model boyfriend Younes Bendjima, and he got dramatic on Instagram after. She's been seen having a night out with her friend and generally has sent the message in her unrelated Instagram stories that she's fine and just living her life.
Advertisement – Continue Reading Below
Tabloid sources have started talking about her state as well, and they're saying about the same thing. Here, a roundup of what each outlet is reporting about Kardashian.
People wants you to know that despite Kardashian's other ex Scott Disick being "so happy" about her breakup, Kardashian and him are never ever getting back together. Like ever. "This is not going to happen," People's source said. "Kourtney will never get back with Scott. She's happy that he's doing well and spending a lot of time with the kid. She's happy about co-parenting with Scott, but that's it."
People also reports Bendjima and Kardashian took a break shortly after they got back from their vacation in Europe. It wasn't a full-fledged breakup…until photos circulated of Bendjima getting cuddly with a girl in Mexico (who denied being his rebound). "As soon as their long European vacation was over, they started having problems," the outlet's source detailed….
Read More